2021 25th Plus One Anniversary Student Conference
November 30, 2021 | Emily Burden Rees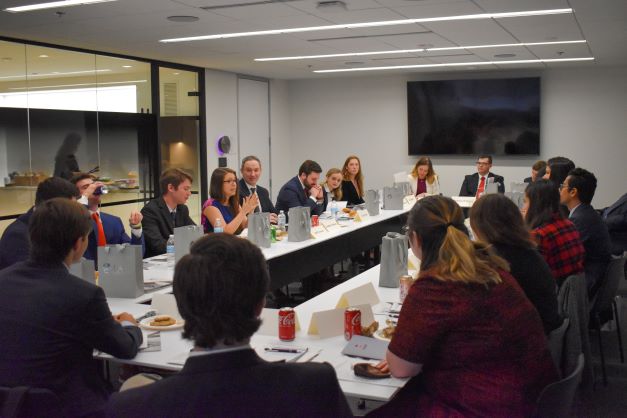 As part of the American Council of Trustees and Alumni's (ACTA) 25th plus one Anniversary Celebration, the Fund for Academic Renewal (FAR) hosted 15 students for an afternoon conference in Washington, DC, entitled "Confronting Cancel Culture: How Student Leaders Can Foster Free Expression on Campus."
The idea for a student conference grew from ACTA's work with college faculty, who nominated select students to attend the celebration and conference. Since 2015, ACTA has identified outstanding campus programs as "Oases of Excellence." These programs educate students for engaged and informed citizenship, maintain high academic standards, teach American heritage, and enhance viewpoint diversity. Student attendees represented Oases at Christopher Newport University, Marshall University, Hamilton College, and Ashland University.
Jonathan Pidluzny, ACTA's vice president of academic affairs, directed the conference. Over lunch, April Kornfield, director of debates at Braver Angels, led an interactive session on how to promote free expression on campus. Following lunch, Doug Sprei, ACTA's director of multimedia and campus partnerships, moderated "Leading by Example," a panel discussion with Manu Meel, CEO of BridgeUSA; Emily Garcia, national director of youth development at BridgeUSA; Luke Nathan Phillips, Publius Fellow for Public Discourse at Braver Angels; and Daniel Acosta Rivas, co-founder of Students for Free Expression. This panel of current students and recent graduates advised attendees on how to foster civil dialogue and bridge political divides.
The afternoon concluded with remarks by Abigail Thompson, professor of mathematics at the University of California–Davis and an ACTA Hero of Intellectual Freedom. Professor Thompson encouraged attendees to be courageous in the pursuit of truth as they seek to make a difference at their schools.
Facilitating healthy, civil discourse among college students is at the core of ACTA's mission to advance academic freedom at America's institutions of higher education. This event was made possible thanks to the generosity of Joe Woodford and the Merrill Family Foundation.
Comments
Leave a Comment